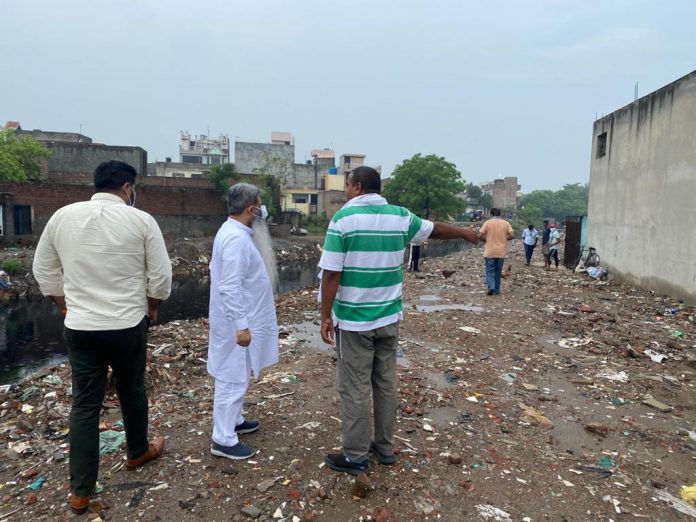 Ludhiana, July 18: Punjab Food, Civil Supplies & Consumer Affairs Minister Punjab Mr Bharat Bhushan Ashu today visited the Budha Nullah in ward number 80 and supervised the ongoing cleanliness drive of the Nullah. He also issued necessary directions to the officials and directed them to ensure that the Nullah is cleaned before the monsoon season.
विधान सभा और संसद में नेता बुरी फिल्में देखते हैं, फिर कैसे बेटी बचाओ-कहां पढ़ाओ ! Dr Harshinder Kaur
It is pertinent to mention that Mr Ashu had visited the Budha Nullah even last Saturday and had issued instructions to the staff. Today, he once again visited the site and directed the MC Ludhiana officials to ensure that the cleaning of Budha Nullah goes on in full swing.
कितनी कारगर है शूगर की दवाई ? शरीर पर पड़ता है गलत या ठीक प्रभाव ? dr. Bishavrooprai choudhary
Mr Ashu said that he is personally monitoring the entire situation and have directed the MC officials to ensure that the Nullah should not overflow from any site in the city.
कोविड 19,लक्षणों के चौथे दिन यदि एक मिनट बिना सांस फुले चल पाएं तो घर पर ही होसकता है इलाज
Mr Ashu informed that the MC has set up a dedicated 24X7 control room (number 0161-4085039) where residents can complain in case of any problem related to water clogging/drainage/water mixing etc. He said that senior MC officials Mr Ravinder Garg (9988820840) and Mr Ravinder Singh (9780900123) can also be contacted for this purpose. 
Mayor Mr Balkar Singh Sandhu, besides several others were also present on the occasion.