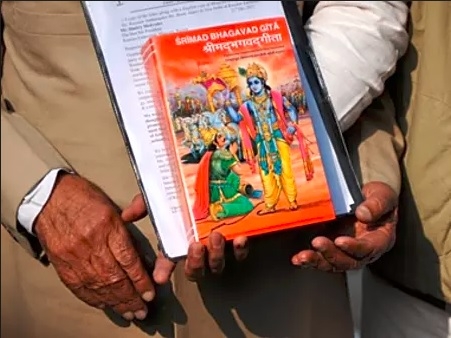 Jalaluddin, a Pakistani citizen, was released on Sunday from Varanasi Central Jail after 16 years, took Bhagavad Gita along with him.
He was arrested with suspicious documents from Varanasi's Cantonment area.
Now, Jalaluddin is way back home to his country.
Ambrish Gaud, Senior Superintendent of Varanasi Central Jail told the media that Jalaluddin was arrested from the Cantonment area in 2001, and hailed from Sindh province in Pakistan.
Jalaluddin was nabbed by the police near the office of Air Force, added Gaud.
Maps of the Cantonment area and some other important places were recovered from Jalaluddin by the police.
16 years of imprisonment was sentenced to the Pakistani citizen by the court then.
"He was imprisoned under the Official Secrets Act and Foreigner`s Act. He has been handed over to the local police. He has taken a copy of (Bhagavad) Gita with him," elucidated Gaud.
Gaud revealed, "When he was arrested, he had only graduated from high school. He completed his intermediate and did his MA from Indira Gandhi National Open University (IGNOU).
"He also undertook an electrician course as well in the jail. He had been an umpire in the jail cricket leagues for the last three years," he further added.
Jalaluddin has been taken to Amritsar by a special team, where he will be handed over to concerned authorities at the Wagah-Attari border.
After which Jalaluddin will return to his country, Pakistan.