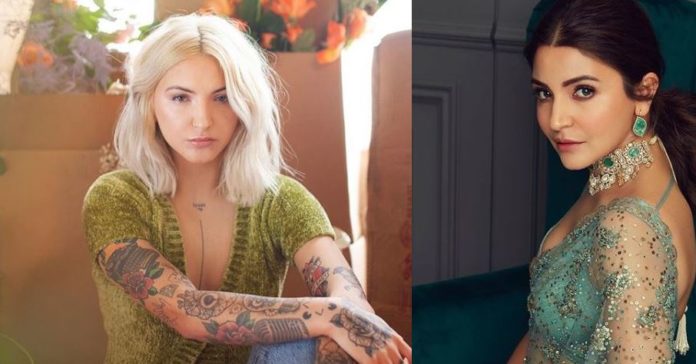 Doppelganger of Anushka Sharma A celebrity photo that looks similar like  Anushka Sharma,is goin viral on social media,. People are amazed  to see the similarities in Looks.
Nushkie @AnushkaSharma is that really you ? 🙄🙄 i really got confused but both of u are beautiful @CozIGotIssues hi julia Nice to see u here 😉 pic.twitter.com/gMfUFV1k1n

— s ᴇ ɴ💋ʀ ɪ ᴛ ᴀ (@SRKsEnorita1) February 3, 2019
you may have seen twins you may have seen some people who have similar feature but.. But this is rarely when there are many similarities in the features of two celebrity. Something similar happened with Anushka Sharma. The photo of an American celebrity looking like an actress on social media is in the headlines. This celebrity, which look like Anushka, is non other than American singer Julia Michaels.
On the Internet, a user shared photos of both of them by creating a collage. In which Julia and Anushka look similar in looks. As soon as these photos came in, it became viral within a few seconds. American singer started trending on Twitter in India. The user wrote in the caption: "Do you really know that?" I got confused by seeing this. Both are beautiful Hi, Julia was happy to see you. "
Anuska Sharma's instant account of Julia's Insta Account is being searched. There are more pictures on her social media account, in which she looks like Anushka. Apart from Julia Singer there are also Song Writer. In 2017, Julia had a debut in Music World. Her first solo issue was released in 2017.
Anushka Sharma is with husband Virat Kohli in New Zealand these days. Virat is playing cricket tournament there. Talking about the actress's work front, her last released film was Ziro. This film, was directed by Anand L. Rai, but film fell off the box office. Katrina Kaif and Shahrukh Khan were also in the lead role.