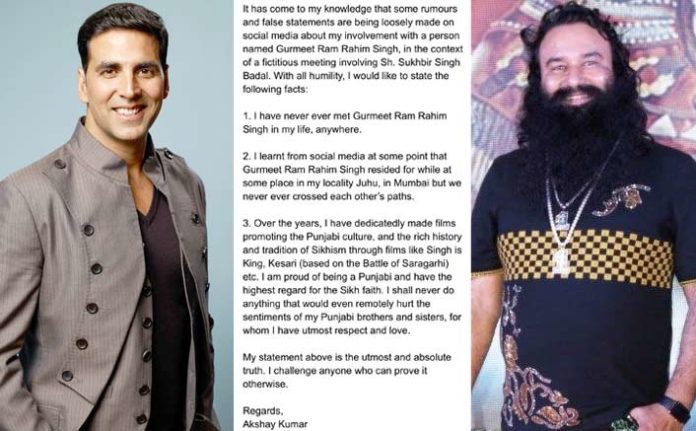 Akhshay Kumar summoned by Special Investigation Team (SIT) on November 21,who is inquiring the events of firing by police at anti-sacrilege protesters in Punjab's Faridkot district three years ago in India.
Bollywood's Khiladi has denied his involvement with Gurmeet Ram Rahim, jailed chief of a Hindu religious group,  who is involved in  blasphemy case, later pardoned.
Kumar's connection with the case is that according to a report by the justice Ranjit Singh Commission on the sacrilege incidents said that a meeting between former deputy chief minister Sukhbir and Gurmeet Ram Rahim Singh was held at the actor's flat in Mumbai in connection with the release of the Dera Sacha Sauda chief's film 'MSG'.
The Welcome actor issued a statement on his official twitter handle writing that, "It has come to my knowledge that soe rumors and false statements are being loosely made on social media about my involvement with a person named Gurmeet Ram Rahim Singh, in the context of a fictious meeting involving Sh. Sukhbir Singh Badal. With all humility, I would like to state the following facts:"
— Akshay Kumar (@akshaykumar) November 12, 2018