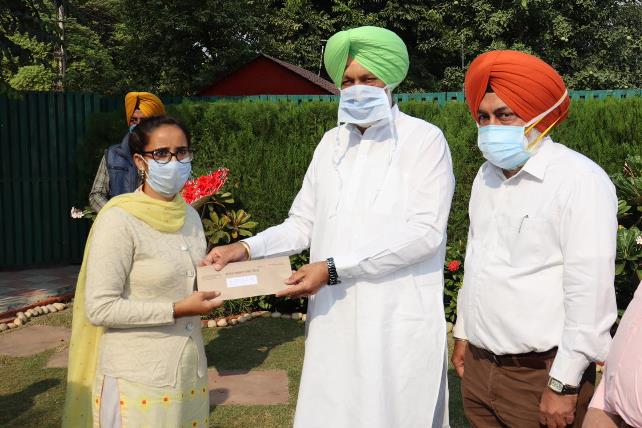 Chandigarh, November 10:
Punjab Health and Family Welfare Balbir Singh Sidhu on Tuesday handed over appointment letters to 482 medical officers, including 107 specialist doctors, in a move that the Chief Minister said would help further strengthen the state's health infrastructure amid the Covid pandemic.
ये है दुनिया की सबसे कीमती चीज़, हीरे-जवाहरात भी पड़े फीके || P.K Khurana ||
The 107 specialist doctors, who are likely to be assigned to District and Sub-Divisional Hospitals to meet the shortage of such doctors there, include 19 ENT, 32 Pathologist, 7 Medicine, 18 Ophthalmologist, 4 Psychiatrists, 11 Skin and 16 Ortho specialists. The 375 new Medical Officers (General) will help overcome the shortage in emergency services.
शरारती तत्वों की नहीं अब खैर, ऐसे रहेगी हर जगह पर नज़र
The move, which will give a boost to Punjab's fight against Covid, is also part of the state government's strategic focus on providing employment to youth under Chief Minister Captain Amarinder Singh's visionary `Ghar Ghar Rozgar' scheme. Under this flagship scheme, the Health Department had recruited a total of 7000 doctors and paramedical staff from 2017 till 2019, while recruitment to another 3940 posts is in process.
आपके पास पड़ा 'सोना' भी कर सकता है आपको मालामाल, जानें कैसे ? || Ashish Goyal ||
The Chief Minister later told a virtual Covid review meeting that the new recruits of the Health & Family Welfare Department were expected to join immediately and render their services towards Covid response. He also directed the Department of Medical Education & Research to also expedite its recruitments
-Nav Gill