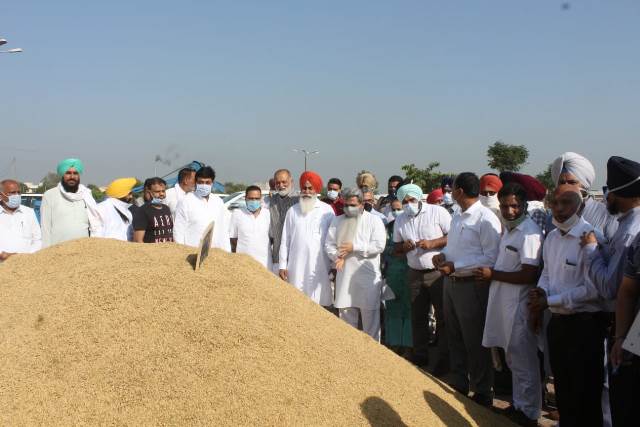 Mullanpur (Ludhiana), October 3
Punjab Food, Civil Supplies & Consumer Affairs Minister Mr Bharat Bhushan Ashu today officially inaugurated the paddy procurement at Mullanpur Grain Market, here. He was also accompanied by CM Political Secretary Capt Sandeep Singh Sandhu, Deputy Commissioner Mr Varinder Kumar Sharma, besides several others.
#D5ChannelHindi #DrSujataArya लड़कियां-महिलाएं क्या करें? उन खास दिनों में, ना हो गर्भाशय की बीमारी
While interacting with the arhtiyas (commission agents), farmers and labour working in the mandi, Mr Bharat Bhushan Ashu assured that the Capt Amarinder Singh led Punjab government is committed for procuring every single grain of paddy. He also assured that elaborate arrangements have been made by the Punjab government for carrying out paddy procurement in a hassle free manner and said that the farmers would not face any problems.
#D5ChannelHindi #DrLeoReballo मोटे से पतले और पतले से healthy हो सकते हैं आसानी से
In his appeal to the farmers, Mr Ashu said that the procurement agencies would procure paddy with maximum of 17% moisture level and that they should bring only dried up paddy to the mandis. He said that strict instructions have been issued to the staff that the procurement should be carried out in a hassle free manner and that the farmers should not face any problems.
#D5ChannelHindi #DrSujataArya लड़कियां-महिलाएं क्या करें? उन खास दिनों में, ना हो गर्भाशय की बीमारी
While issuing strict instructions to the staff of procurement agencies that they should ensure timely redressal of any problems/complaints of the farmers and that there should not be any delay in this regard.
DFSC Mr Sukhwinder Singh Gill informed that last season, 17.28 lakh MT of paddy had arrived in the mandis of district Ludhiana, and this season, they are expecting similar arrival too. He said that this time, 107 purchase centres and 296 temporary yards have been set up in the district.
Prominent among those present on the occasion included SDM (West) Mr Amrinder Singh Malhi, Deputy Director Food & Civil Supplies Mr Manish Narula DFSC Mrs Harveen Kaur, DCC (Rural) President Mr Karanjit Singh Galib, LIT Chairman Mr Raman Balasubramaniam, Vice Chairman Mr Karam Warring, Chairman Market Committee Mr Manjit Singh Bharowal, Nagar Council President Mr Telu Ram Bansal, DM Punsup Mr Jagandeep Singh Dhillon, besides several others.
-Nav Gill