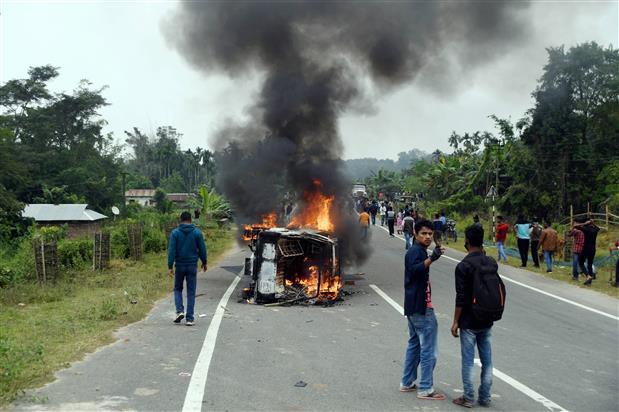 Agartala, November 22
The death toll in the firing incident in Panisagar area of Tripura rose to two on Sunday with a fire service employee succumbing to his injuries, a police officer said.
43-year-old Srikanta Das, a carpenter who was among the protesters, was killed and at least 23 others were injured when police opened fire at picketers, who had blocked the Assam-Agartala National Highway at Panisagar in North Tripura district on Saturday, police said.
चुपके से लगने वाला ये रोग है सबसे खतरनाक,तेजी से लोग हो रहे हैं शिकार||Dr.H K Kharbanda|| Anxiety ||
The demonstrators were protesting against a government plan to rehabilitate over 6,000 Brus in Kanchanpur sub-division. Biswajit Debbarma, a fire service personnel, who was injured by the protesters and admitted at GBP Hospital with polytrauma and head injuries died early Sunday, Sub-Divisional Police Officer (SDPO) of New Capital Complex, Piya Madhuri Majumder said.
अब माइग्रेन की होगी छुट्टी, आजमाएं ये तरीका || Acharya Mehul Shastri ||
Locally known as "Assam-Agartala Road", the NH-8 is often called the lifeline of Tripura as it connects the state with the rest of the country.
The Joint Movement Committee (JMC), comprising Bengalis and local Mizos, had called an indefinite bandh in Kanchanpur and had blocked the highway on Saturday.
-Nav Gill/ Agency