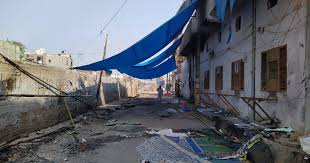 * JKA 24 News (People's Hope) *
* Sheikh Naseem @ 8770972604 *
* New Delhi @ * The Delhi High Court has taken a strong stand on the devastation caused by two days of devastation in the capital of the country, with a strong rebuke to the Central Government, along with Bharatiya Janata Party Union Minister Anurag Thakur MP Pravesh Verma MLA Abhay Verma and former MLA Delhi Police has been ordered to register an FIR for making inflammatory statements to Kapil Mishra.
इस कलाकार की कारीगरी देखकर आप हो जाएंगे इसके Fan || crafts fair || heritage festival || Mela ||
The Delhi High Court took a strict stance that an FIR should be lodged on every inflammatory video and it would be heard on Thursday. After the MP Pravesh Verma MLA Abhay Verma and former MLA Kapil Mishra also saw video clips of Kapil Mishra's video in Delhi's DCP Was present beside the Delhi High Court video after seeing Kapil asked what name it is prescribed by the lawyers, the court in response to its name is Surya who the DCP with Mishra.
एक ऐसा मंदिर, जहां होती है भस्म से आरती… || Mahakaleshwar || Jyotirling || Ujjain || Bhasm Arti ||
Significantly, against the protest against the NRC and CAA, the people performing in support of NRC and CAA had a dispute among themselves, this dispute took violent form and the East Delhi riots 26 people have been killed, 80 people are said to be injured, many houses and shops have been burnt, vehicles have been set ablaze, and fear and fear has been stirred in Delhi The ground became red with blood and the sky was covered in a whirlwind of black smoke.
By – Pallavi…