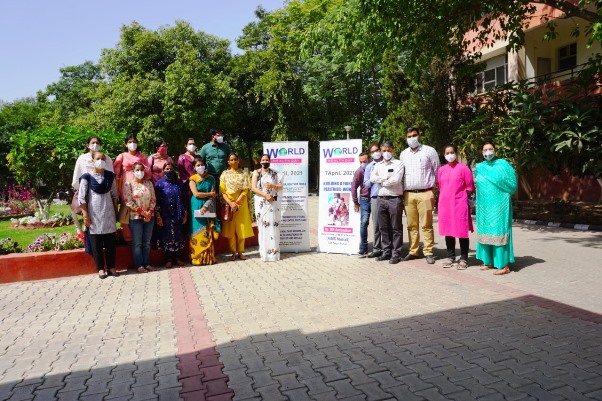 SAS Nagar, April 7:
Underling the urgent need of adherance to Covid-appropriate behaviour and intensification in pace of vaccinations, Director Principal Dr B R Ambedkar State Institute of Medical Sciences Mohali Bhavneet Bharti today on the occasion of World Health Day urged people to wear mask and follow social distancing norms at all costs to save themselves and their loved ones from the virus.
रंगो मे छुपा सेहत का राज लाल रंग || Vrinda ||
Speaking at AIMS Mohali this afternoon where the week-long awareness functions are being organized to spread awareness against Covid, Bharti said that vaccine is the most potent shield we have against this deadly virus urging everyone eligible to get vaccinated at the earliest.
अब नहीं होंगे पिंपल्स || Dr. Naveen Kumar ||
AIMS Mohali faculty participated in several activities and organized guest talk by Chairperson of the Centre of Human Rights and Duties Panjab University Dr Namita Gupta on the theme of 'Building a fairer, healthier world'. She said that the our world is unequal that Covid Pandemic has widened the gap and it has exposed the longstanding structural drivers of health inequities, such as precarious and adverse working conditions and growing economic disparities. These important determinants of health have interlinked with socioeconomic class, gender, education level, geographical areas, and other factors during COVID 19 to exacerbate existing social vulnerabilities in society, she added.
क्यों फैल रही है समाज में विटामिन डी (Vitamin-D ) कम करने की बीमारी || Dr. Joginder Tyger ||
Further, the staff of the AIMS has organized COVID vaccine camp in the Barmajra and addressed the community's hesitancy issues with the help of several stakeholders to foster resilience among the community and supported several members in the community who intended to vaccinate.
Similarly, Assistant Professor Community Medicine Dr Anuradha Nadda has organized camp at Boothgarh to address the health inequities and sensitize the community about COVID Vaccination.
To propagate the concept of one health several saplings are being planted by the Guest Speaker Dr Namita Gupta, Principal Secretary Sh DK Tiwari and Additional Secretary Sh Rahul Gupta.
-Nav Gill