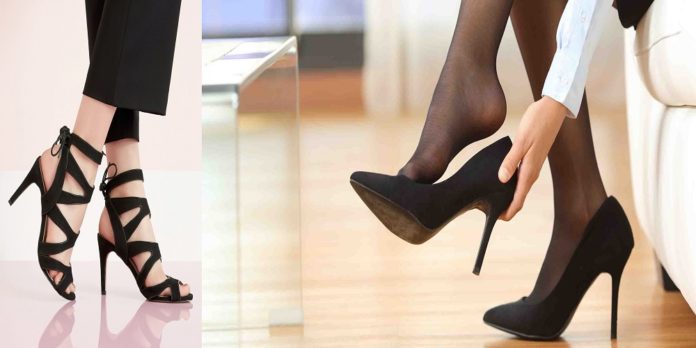 Women in Japan have started an online movement against workplace dress codes which have made wearing high heels obligatory for women.
Despite the fact that both men and women are believed to wear suits when chasing for a job, heels are the de facto dress code for working women in Japan, as flats are usually frowned upon for females, reports Japan Today.
The hashtag #KuToo on Twitter had obtained its composition style from the #MeToo movement.
The #MeToo movement began inclining in October 2017 as a hashtag via social media demonstrate the prevalence of rape cases and sexual harassment, especially in the workplace.
#KuToo is a blend of the Japanese words for shoe (kutsu) and pain (kutsuu).
Twitterati's are now calling for an adjustment in formal clothing standards for women in Japan.
Twitter users have expressed rage at the socially established routine of wearing heels during work.
wear what you feel to wear or whatever gives you self confidence and makes you feel good…
free to be yourself…
what people think or say about you is not your problem…
it is their problem…
what you desire therefore you are…#KuToo#Japan

— Brijesh Singh (@flyingfrogs10) March 23, 2019
It's sexism. It's unhealthy. That's exactly the point. And that's what this movement is all about. 👏🏼👏🏼👏🏼👍🏼👍🏼👍🏼 #KuToo #Japan #Japon https://t.co/B9LXvJG3mP

— ゆ (@fearofbigleaves) March 22, 2019
High heels started in 10th century when horse riding men wore heels on their shoes for feet to stay in stirrups while riding.
What kind of shoes SHE wants to wear to office is HER CHOICE it should not be based on our choice #KuToo pic.twitter.com/Y4QBeOGzAa

— AR (@AadityaRazdan) March 23, 2019
#KuToo#韓女は日女の味方
Wearing uncomfortable and harmful shoes is not an obligation.
We support Japanese womyn.
Let's break down the misogyny together.

— 天賦(천부) (@hayeong_second) March 15, 2019
Young job seekers in Japan, too, don't have any options but heels to wear because there are unspoken requirements formed by the society. I hope every women, including high heel lovers, can wear whatever business shoes they choose in the near future.#KuToo #Japan #genderequity pic.twitter.com/Mrsnbqf7Xy

— ゆ (@fearofbigleaves) March 20, 2019