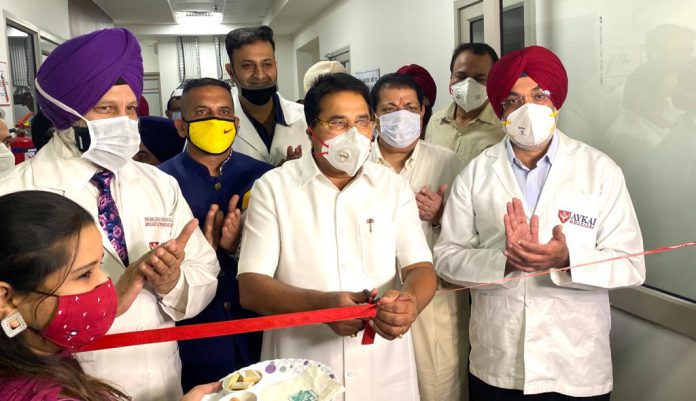 LUDHIANA, October 25:
Medical Education and Research Minister OP Soni on Sunday, inaugurated an Advanced Orthopaedic Institute (AOI)— a dedicated centre for Joint replacements, Sports injuries and fracture treatment at Aykai Hospital here.
ACTIVE BODY के लिए करें ये प्राणायाम || Dr. Vijata Arya || Episode 4 ||
While inaugurating the state-of-art Centre for Computer Navigation /Robotic Joint Replacement System and Advanced Orthopaedic Institute at Aykai Hospital, Ludhiana, the Minister congratulated Dr Baldev Singh Aulakh, a renowned Urologist, transplant surgeon and Chairman Aykai Hospital and Dr Navpreet Aulakh for their innovative step to upgrade the medical equipment for better Health Care delivery and training of doctors.
त्वचा की हर समस्या का इलाज अब आपके हाथ, जानें कैसे ? || Dr. Arun Sharma ||
Minister OP Soni assured his full support to make the institute a centre of excellence for imparting medical education and training.Dr Baldev Aulakh informed the minister that the Aykai hospital, which was known for its modern treatment in kidney, stone, prostate, transplant surgeries now would be providing complete orthopaedic care under one roof. "This hospital is providing one of the best healthcare services not only to Punjab patients but neighbouring states of Himachal Pradesh, Jammu and Kashmir, Rajasthan and Haryana," he said.
अब इस तरीके से फेफड़े होंगे मज़बूत, पुराना खांसी-जुकाम भी होगा दूर || Dr. Vijata Arya ||
Dr Harpreet Singh Gill, director AOI said that this institute would be unique in the sense that the world's best and latest technology of computers/navigation/robotics would be used for knee, hip and shoulder replacements, sports injuries and for fracture treatment by an experienced team of doctors. "Usually we see this concept in the western countries, but we are bringing such expertise and technology here in Punjab," he said.
The cabinet minister also watched the demonstration of Robotic/Computer Navigation knee replacement and Hip systems. He said that he was happy that people of Punjab, Himachal and Haryana would benefit from the expertise of the Orthopaedic team. He also said that because of such centres of excellence in Punjab they are seeing a reverse trend with patients even coming from USA, UK and Canada to get their knee or hip replacements are done here.
Further commenting, OP Soni said he knows that the Aykai hospital being best for urology and Transplant surgeries under the leadership of Dr Aulakh and congratulated the entire team for creating best Orthopaedic institute under Dr HS Gill's leadership who is a well-known Orthopaedic.
Special Poster on Dussehra launched
On eve of Dussehra, Cabinet Minister OP Soni also launched a special poster prepared by Advocate Harpreet Sandhu, vice president Sewa Sankalp Society depicting the message, "May this Dussehra be the Harbinger of Peace and brings respite from the ongoing Covid-19 pandemic" for the citizens of Ludhiana. Prominent Doctors of Ludhiana, Medical Practitioners and other respectable were present during the inaugural event at Aykai Hospital.
On the occasion, Baba Ram Singh Ji, Baba Dhanna Singh Ji, Dr Manmohan Singh, Dr SD Abrol, Dr Rohit Singla and Dr Sunil Katyal among other prominent persons were present.
-NAV GILL