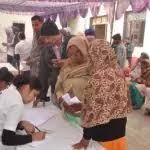 Ludhiana, The Satish Chandra Dhawan Govt College, Ludhiana, is celebrating its centenary celebrations and on 4 March, 2020, a play named "Woh Afsaana" would be staged in the college auditorium, here. This information was provided by College Principal Dr Dharam Singh Sandhu, during a press conference held here today.
इस कलाकार की कारीगरी देखकर आप हो जाएंगे इसके Fan || crafts fair || heritage festival || Mela ||
While providing information, Dr Sandhu informed that SCD Govt College, Ludhiana is a premier institution of Punjab and has been serving the student community and contributing to nation building for hundred odd years now. This eventful journey of the institution has left an indelible blaze-trail of brilliance and excellence, creating myriads of role models and living legends.
एक ऐसा मंदिर, जहां होती है भस्म से आरती… || Mahakaleshwar || Jyotirling || Ujjain || Bhasm Arti ||
He informed that the centenary celebrations of the college are being celebrated on a grand scale this time. Play named "Woh Afsaana" would be staged at 7 pm onwards on March 4 in the auditorium of SCD Government College, here. This play would be staged in the memory of famous Urdu poet Sahir Ludhianvi and famous poet Amrita Pritam. This play is being organised in collaboration with organisation Ludhiana Sanskritik Samagam.
इस मंदिर में देवी न देवता बल्कि होती है , मोटरसाइकिल की पूजा
Dr Dharam Singh Sandhu further informed that the academic growth of the college during these hundred years has been phenomenal. With only 12 students in 1920, today the college has around 5,000 students on the rolls, with 150 faculty members engaged in imparting quality education to them. Eleven departments impart post-graduation opportunities to the students.
अब An Apple a Day , keeps the Doctor away की जगह कहेंगे An Orange a Day …
Prominent among those present on the occasion included LSS Vice President Amrit Nagpal and General Secretary SK Rai, District Public Relations Office Prabhdeep Singh Nathowal, Navdeep Singh from FM Gold Ludhiana, Brij Bhushan Goyal, besides several others.
By – Pallavi…