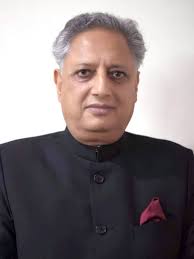 Chandigarh, January 12:
The Punjab Vidhan Sabha Speaker Rana KP Singh on Tuesday extended warm greetings to the people on the joyous occasion of Lohri. He also prayed for the well-being of the farmers protesting against the draconian agricultural laws, while urging the Union Government to address the concerns of the farmers.
दबी हुई नसों को खोलने का अचूक आयुर्वेदिक उपाय
In his greetings message, the Speaker observed that festivals are integral components of our composite cultural heritage which strengthen the bonds of communal harmony and promote amity and brotherhood among the people.
पढ़ने का ये तरीका बना देगा आपके बच्चों को Brilliant || Dr.Kabir ||
Praying for peace, prosperity and development of the State, Rana KP Singh said that the celebrations of the festivals bind all sections of our society together with the spirit of love, compassion and joy.
-NAV GILL