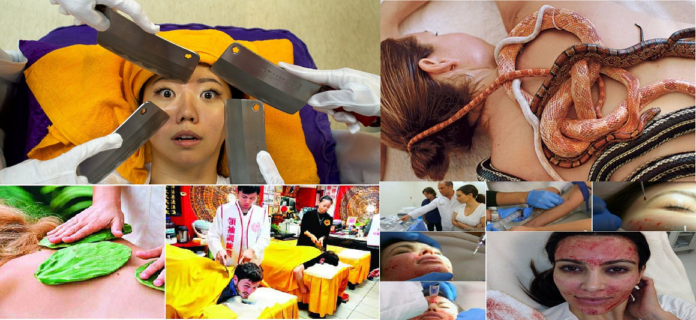 Due to the pressure of work in modern life, most people live in tension. Do not do anything to reduce your stress and to relax. But do you know that Chinese people resort to knives and chairs to reduce their stress.
Yes, you will be surprised to know, but in China, mass media is provided not only for men or women but with the help of a knife. The name of this cowardly mass is 'knife massage'.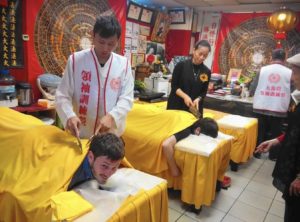 Actually, it is believed that this massage, which is given by knife, provides muscles with ease and the mind feels calm and relaxed.
You will be surprised to know that the sharp-edged knife is used for this massage. The knife edge is sharpened before the massage. After this, the body of the client is on the face and with a sharp sharpening edge 2 massage with a knife.
However, in this therapy the knife is not applied directly to the skin. Before body therapy, body is covered with the help of special thin cloth. After this, the massage is given with a knife over the cloth. Expert says that special knives are made for this therapy, which are completely safe.
Let us say that massage with the help of a knife is not a new trend. Rather, these trends are about 2000 years old, which started in China. In ancient times, a knife was used to treat muscular pain, skin, joint pain etc.
After China, these strange therapies have now reached Japan and Taiwan. These days, in Japan and Taiwan, the Knife Massage is in trend.
Apart from this, another funny musical video is becoming viral, which you can't even imagine. This massage does not snatch 50 kg of men or women. In this therapy, the snake is left over the body, which crawls on people's body.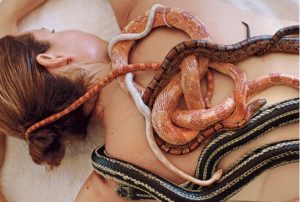 In fact, Expert believes that the cold temperature and high weight of snakes both help in relieving people. People try to reduce stress by snakes.
Apart from this, there is such a strange physician 'vampire facials' in which people put their blood on their own face. These days Gold Massage is also in great trends. Massage is done by putting 24 carat gold on the bodies of people in this massage.