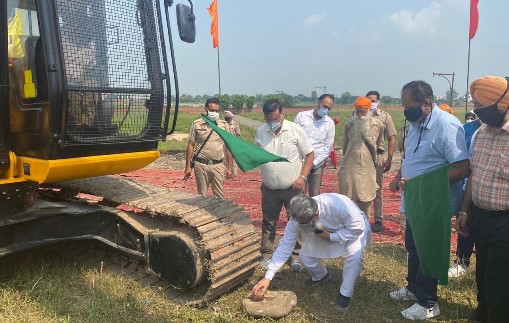 Ludhiana, September 14:
In a yet another good news for the residents and with the start of soil testing work today, the way has been paved for the construction of an ultra-modern sports park at Jainpur village. This sports park is coming up on 30-acre land at village Jainpur, where a garbage dump existed once.
फिटकरी के पानी से ठीक हो जाते है टॉन्सिल्स, ऑपरेशन करवाने की नहीं पड़ेगी जरूरत || Dr. HK
The soil testing work was inaugurated by Punjab Food, Civil Supplies & Consumer Affairs Minister Mr Bharat Bhushan Ashu by visiting the site today. He was also accompanied by Mayor Mr Balkar Singh Sandhu, MC Commissioner Mr Pardeep Kumar Sabharwal, SDM Ludhiana (West) Mr Amrinder Singh Malhi, besides soil testing experts from Guru Nanak Dev Engineering College, here, and several others.
झपट मार करने वाला गिरोह का काबू , बरामद की सोने की बालियां और कई सामान
While providing information, Mr Bharat Bhushan Ashu informed that this sports park would have playgrounds for cricket, football, hockey, lawn tennis etc. He said that this project is coming up under the Ludhiana Smart City Ltd and the construction work is expected to start shortly. He said that a team of experts from Guru Nanak Dev Engineering College Ludhiana have been hired for soil testing of this project as MC garbage dump existed at this site once. He said that the garbage dump site is being put to optimum use by constructing a sports park there.
कौनसा नमक खाने में डालें जो शरीर को नुकसान ना पहुंचाए || Dr. Joginder Tyger ||
Mr Ashu informed that upon the completion of soil testing, a Detailed Project Report (DPR) would be prepared, after which work would be started. He assured the residents, especially the youth, that this would be one of its kind sports park in the state and would benefit a large number of sportspersons for many years to come.
टेंट हाउस, मैरिज पैलेस, डी जे, को दी जाए रियायत, नहीं तो सड़कों पर उतर करेंगे रोष प्रदर्शन
He further stated that the tenders of all weather indoor swimming pool have already been issued under the Ludhiana Smart City Ltd and the work regarding this is expected to start shortly. He further informed that all existing sports facilities in the city are also being strengthened. These include a new athletics synthetic track at Guru Nanak Stadium, development of basketball court and badminton courts at Shastri Hall, Table Tennis stadium, besides all others.
While issuing strict instructions to the staff, Mr Bharat Bhushan Ashu stated that he is personally monitoring the progress of all these projects under Ludhiana Smart City on weekly basis and warned that strict action would be taken against officials if there is any lapse on their behalf.
He further said that the Capt Amarinder Singh led Punjab government is committed for carrying out overall development of the state. He said that the projects under Ludhiana Smart City project would be completed on priority basis and within the set time frame.
Meanwhile, the minister also flagged off a new Poclain machine, purchased to clean the Budha Nalah.
-NAV GILL