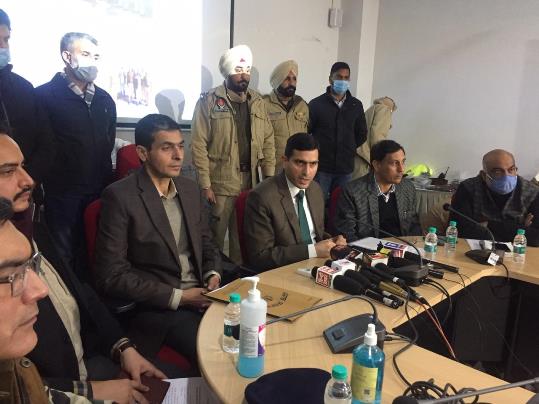 SAS Nagar/ Chandigarh, January 12:
Continuing its tirade against the smuggling of liquor into the State of Punjab under "Operation Red Rose", the Excise Department, Punjab got a major success in nabbing a kingpin involved in filling cheap brands in Scotch bottles in Zirakpur area.
Giving the details, Sh.Rajat Agarwal, IAS Excise Commissioner, Punjab and Sh. Moneesh Chawla, IPS, I.G. Crime Punjab informed that Mohali Excise has once again tightened the noose on persons involved in smuggling of liquor. Secret information was received that few persons are involved in smuggling cheap liquor from Chandigarh into Punjab and further fill it in bottles of BIO/Expensive brands. The information was further developed and found that Jatinder Pal Singh alias JP is involved actively in the scam.
बिना दवाई नज़र का चश्मा उतारने का अचूक उपाय || Dr. Arun Sharma ||
On the intervening night of 04/05 January, 2021 under the able guidance of Deputy Commissioner Excise, Patiala Zone Sh. Rajpal Singh and under the supervision of A.I.G. Excise Sh. Amarpreet Ghuman and Asstt. Commissioner Excise Ropar Range Sh.Vinod Pahuja, a team comprising E.I. Kharar Sarupinder Singh, E.I. Derabassi Jaspreet Singh, S.I. Kulwinder Singh and A.S.I. Lovedeep Singh along with other staff were present at Zirakpur when they got a tip that the accused Jatinder Pal Singh alias JP would be receiving a consignment of Empty bottles, mono cartons and caps of BIO brands. In order to catch the accused red handed, teams of Mohali Excise and Excise Police were formed. The teams got success when Jatinder Pal Singh along with his accomplices who were unloading some cartons from a bus bearing no. HR63D8080 at Zirakpur. The teams intercepted the accused and their accomplices and successfully arrested them from the spot.
The team found 80 empty bottles of Black Label, 55 mono cartons of Black Label, 10 Empty Bottles of Red Label, 35 lid caps of Chivas Regal, 30 labels of Chivas Regal, 100 unused caps of Chivas Regal in the consignment. The team also found the car of the accused bearing no. PB23R7209 from the spot and detected 6 cases of Red Label and 2 cases of Black Label from it.
आपकी नसों में भी होता है दर्द, आती है सूजन तो हो जाएं सावधान || Dr. Arun Sharma ||
Later, the team raided the residence of Jatinder Pal Singh alias JP i.e. #  408, 4th Floor, Tower 19, Motia Royal Citi, Zirakpur. The team recovered 11 bottles of filled Black Label, 12 empty bottles of  All Season and 12 bottles of  555 Gold.
          Then, the team raided the godown-cum-residence of  Jatinder Singh and Vijay Kumar situated at Jamuna Enclave, Zirakpur where 54 bottles of  Black Label, 12 bottles of  Red Label, 07 bottles Royal Salute, 60 bottles of  Naina, 12 bottles of  Blue Label, 60 empty bottles of  Red Label, 32 empty bottles of  Absolut Vodka, 80 empty tin packing of  Red Label, 90 empty bottles of  Glenfidich with mono cartons, 136 empty bottles of  Black Dog with mono cartons, 18 cartons of  Vodka, 20 mono cartons of  Blue Label, 136 mono cartons of  Red Label, 80 unused caps of Red Label, 300 neck lables of Chivas Regal, 500 unused caps of Chivas Regal and 25 litres of ENA.
क्यों होते हैं लोग जीवन में असफल? जिन्दगी बदल देगी ये वीडियो || PK Khurana ||
During the investigation, accused admitted that he smuggles cheap liquor brands such as 555 and All Season from Chandigarh based liquor contractor named Ashu Goel on regular basis and procure empty bottles, caps and other material from New Delhi. He used to store the empty bottles, caps and other material at a godown in Jamuna Enclave, but cheap brand liquor at his residence. Then, he brings the material with the help of his accomplices at his residence and fill bottles there. He used his car to supply the ready bottled liquor at Chandigarh and other areas. He also admitted that few smugglers from other states come to his residence for taking delivery.
          An FIR No.07, dated 05.01.2021 was got registered at Zirakpur Police Station against (1) Jatinder Pal Singh alias JP S/o Harmohan Singh, resident of Flat No.408, 4th Floor, Tower No.19, Motia Enclave, Zirapur, (2) Jatinder Singh S/o Mohinder Singh, resident of village Barbain, Kurukshetra, (3) Karan Goswami S/o Gurnam Pal Singh, resident of H.No., Shiva Enclave, Bhabat, Zirakpur and (4) Vijay S/o Rajinder Singh,  resident of Flat No.408, 4th Floor, Tower No.19, Motia Enclave, Zirapur under Section 61/1/14 of Punjab Excise Act and Sections 420 and 120-B of IPC. Section 25, 27, 54 of Arms Act, 419, 170, 171, 328 of IPC were subsequently added.
दबी हुई नसों को खोलने का अचूक आयुर्वेदिक उपाय
During the course of investigation, it has also come to the light that the accused and his accomplices were hand in gloves with one person naming Gupreet Sidhu R/o Motia Royal Citi, Zirakpur.  Consequently, senior officers of the Department were apprised about the matter who brought the matter to the notice of senior Police officers and an Special Investigation Team (SIT) was formed under the supervision of S.S.P. Mohali to investigate the matter. The teams further investigated the matter and arrested Gurpreet Sidhu.
Meanwhile, the teams also raided a godown of Ashu Goel, Chandigarh based liquor contractor in Sector 29 where around 1966 cases of liquor of various brands were found without holograms. The godown was sealed in the presence of Chandigarh Excise and Chandigarh Police for further investigation.
Sh.Rajat Agarwal, IAS, Excise Commissioner, Punjab and Moneesh Chawla, IPS, I.G. Crime, Punjab reiterated that the Government has zero tolerance policy as far as smuggling of liquor or any illegal activity relating to Excise is concerned and nobody would be spared and action would be taken as per law.   Sh. Rajat Agarwal informed that a centralized complaint number 9875961126 has been launched to receive complaints regarding illicit liquor.
-NAV GILL