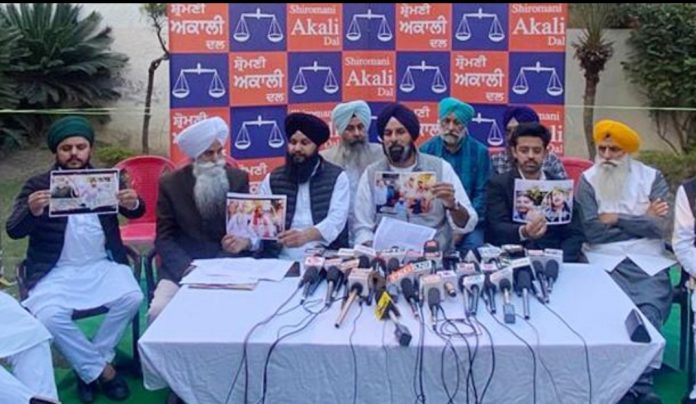 Don't discriminate on basis of religion, act against every guilty : Bikram Singh Majithia
Protection should be given to every citizen, not on selective basis
People of the state are worried on division on communal lines
Punjabiat has to succeed as we believe and pray for Sarbat da Bhala
Amritsar –  Shiromani Akali Dal today said that AAP Government led by Bhagwant Mann has miserably failed to take action against those handful elements who are trying to vitiate the atmosphere by trying to polarize thoughts of people on religious lines and disturbing peace and communal harmony of the state.
Addressing a press conference here today, Former Minister and Senior SAD leader Bikram Singh Majithia said that people of the state were worried about these elements who are spitting venom against religion of others and trying to disturb peace of the state. He said that the bond between Hindu and Sikh Community has to be protected and Punjabiat has to succeed as we believe and always pray for Sarbat da Bhala as told by our Guru Sahiban.
He said that Chief Minister Bhagwant Mann was adopting double standards in taking action against such elements. He said that though Sunny has been arrested in murder case of Sandeep Suri but no action has been taken against those elements who set ablaze shop of Hardeep Singh brother of Sunny and spitted venom against Sikh community. He said that law of the land was equal for everyone and there can't be two set of laws for one community or the other. He said that protection should be given to everyone and not on selective basis. He also demanded security for Hardeep Singh and Mandeep Singh brother of Sunny.
He said that Hardeep Singh had filed a complaint on November 10 against those elements who set on fire his shop and destroyed everything, but no action has been taken against culprits till date. He said that Hardeep Singh has no involvement in murder of Suri but still he has not been given justice by the Police because Bhagwant Mann Government has told Police to not to take action against such elements.
The SAD leader said that there is CCTV evidence of Saurav Setia and Manish Kapoor pelting stones at shops and Rahul using petrol of a bike to set fire on shop, he used foul language against Sikhs and also beat up youth on the spot, but no action has been taken against them.
He said that a team of both Sikh and Hindu community advocates were representing Sunny in the court because they want peace and harmony in the state. He also disclosed names of the advocates including Advocate Bhagwant Singh Sialka, Saurvan Changotra, Rohit Sharma, Raman Sharma, Dheeraj Sodhi, Sukhraj Singh Mann, Gurpreet Singh Basarke and Surinder Mohan Sharma.
In the Press conference Mandeep Singh and Hardeep Singh also disclosed that their family was of religious nature and they had always worked with communal harmony and a number of boys belonging to Hindu community were working in their shop and their customers were all Punjabis and not Sikhs alone. They also disclosed that when they meet Sunny during his presentation in the court, he also asks to ensure that there is no polarization in the name of Hindu or Sikh community.
Majithia demanded that AAP government should not discriminate on the basis of religion and instead should work on to secure peace and communal harmony of the state. He also said that those who are spitting venom, should not be provided any security and instead strict action should be taken against them. He said that Peace and Communal harmony was most essential for progress of the state.