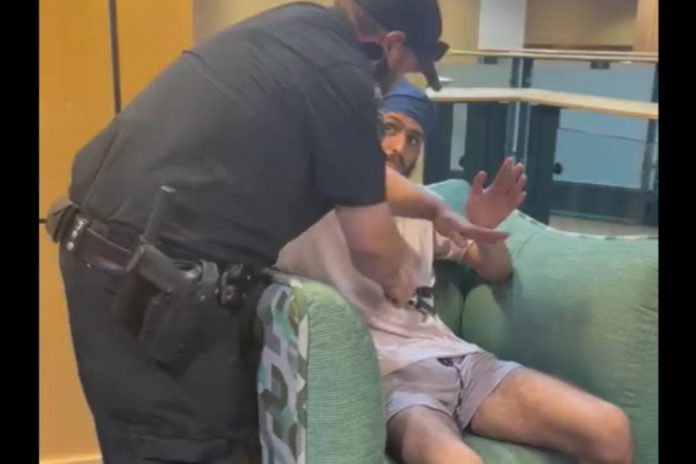 Newsdesk – Caroline University of North Caroline in America apologizes for detention of Sikh student for wearing kirpan. A video had gone viral in which a police personnel handcuffed a Sikh student from university campus and the Sikh student was seen wearing kirpan, a religious article of worn by Amritdhari Sikhs.
In a video, a police officer tried to take off kirpan from the Sikh student. But, the boy told the officer that he could not take off his kirpan from his body.
Shiromani Gurudwara Parbandhak Committee Head, advocate Harjinder Singh Dhami has condemned the incident. Dhami has urged Indian Foreign Minister S Shankar and Indian Ambassador in US Taranjit Singh Sandhu to make sure that no such incident happens in future and justice to be done in the present happening.
In the meantime, University Chancellor Sharon Gaber apologized on Friday by posting a message in the university website. The message says "UNC Charlotte dispatch received a 911 call reporting someone with a knife in the building. Police officers responded to the scene and engaged the individual in question. During this interaction, the individual was handcuffed while the officers took possession of the object. The handcuffs were removed after object was retreived. Further, investigation showed the item was a kirpan, an article of faith in Sikhism"
The message on university site further reads " State law and university policy prohibits possession of a knife or other edged instruments in the university campus, but we will use this as a learning opportunity by engaging in constructive dialogue with Sikh students and employees. Together, we are confident we can find reasonable measures and educational opportunities and both protect the safety of our campus and the religious practices of the community members.  Our diversity makes us better, richer, more successful community. We want every Niner to feel welcomed , supported and safe. We apologize that is not what this young man felt in our union today. We are committed to ensuring it doesnot happen again.