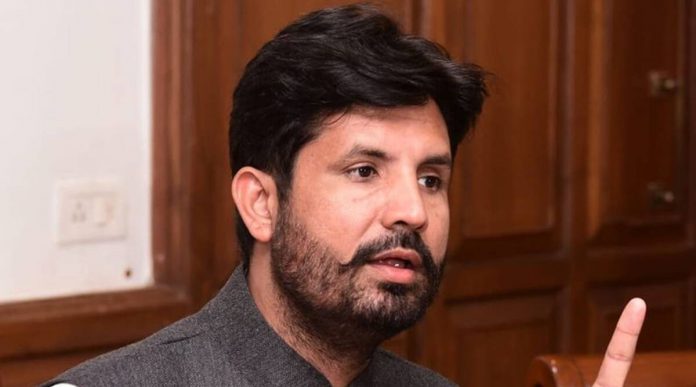 CHANDIGARH -The entire Punjab Congress leadership today rallied behind the former Speaker Rana KP Singh after it was reported that the mining department had asked the vigilance bureau to probe his alleged role in the illegal sand mining.
Leader of the Opposition Partap Singh Bajwa, the PCC president Amarinder Singh Raja Warring, former Deputy Chief Ministers OP Soni and Sukhjinder Singh Randhawa, former ministers Tripat Rajinder Singh Bajwa, Sukh Sarkaria, Aruna Chaudhary, MPs Chaudhary Santokh and Dr Amar Singh were among senior leaders present during Rana's press conference at the Punjab Congress Bhawan here today.
The PCC president Warring condemned the Aam Aadmi Party government for its sustained and malicious campaign against its leaders saying, the Congress party did not need any certificate from anyone.
Presenting his case, Rana demanded that since the Mining Minister Harjot Bains was himself under the scanner of the High Court and the Governor for the illegal sand mining, which is going on, he should be removed till the probe is completed.
He urged the Chief Minister Bhagwant Mann to order a CBI probe into the mining activities during last five years including during the last six months of the AAP government also.
The former Speaker questioned the moral authority of the Mining Minister saying he had a personal grudge and vested interest against him since he had fought elections against him from Anandpur Sahib. Besides, he added, after the High Court stayed the mining policy and observed that no tenders be floated without its nod and the observations made by the Governor Banwari Lal Purohit, Bains had no moral authority to continue as minister. Being an accused himself he cannot be the judge in the case, Rana remarked.
He sought to debunk Banis' claims that the CBI had wanted the matter to be probed last year. He said, there was no such issue and there were only anonymous unsigned complaints, which obviously could not be taken note of.
Spelling out his demand for probe by the CBI or a sitting judge of the High Court, Rana said, the probe should include the mining activities along the international border which the army and the Border Security Force has described as a grave threat to the national security.
Rana asked Bains whether it was not a fact that despite ban on mining during the monsoon season, thousands of truckload of sand was being extracted. Who was allowing that? he asked.
The senior Congress leader said if need be, he will try to meet the Chief Minister Bhagwant Mann for an independent probe by the CBI or a HC judge. In case, he added, his demand was not met, he will approach the court also as he will not allow his image and reputation of 40 years of public service to be maligned and tarnished like that. Enough is enough, he said, while asserting, he will fight against this political vendetta till the end.