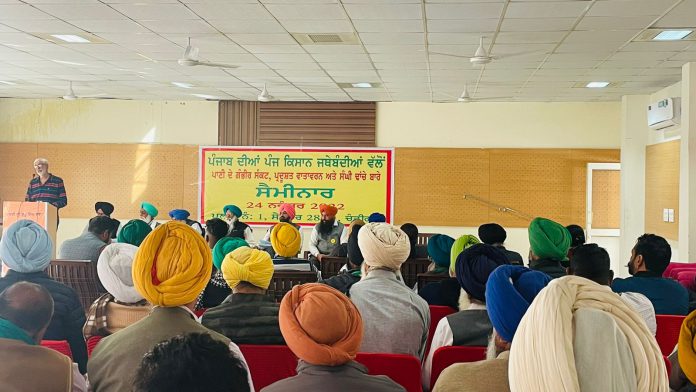 Chandigarh – Today a seminar on Punjab water crisis, environment pollution and central attack on federal structure of the state was held at plot number 1, Sector 28-A, Chandigarh. Five Kisan Organisations, Bharti Kisan Union (Rajewal), All India Kisan Federation, Kisan Sangharsh Committee, Punjab, Bharti Kisan Union (Mansa) and Azad Kisan Sangharsh Committee organised the seminar, their state Presidents , Balbir Singh Rajewal, Prem Singh Bhangu, Kanwalpreet Singh Pannu, Bogh Singh Mansa and Dalbir Singh Vedadpur were present and addressed the seminar.
Balbir Singh Rajewal, while inaugurating the seminar gave a clarion call to the people of Punjab to save water, federal system and environment. He said water issue has been complicated by the political parties for their vote politics. Centre has illegally and unconstitutionally interfered in the issue and keeping the people of Punjab and Haryana divided and fighting. He said organisations are launching a permanent morcha on December 30 in Chandigarh for the resolution of water disputes.
Kahan Singh Pannu IAS (Retd) gave the details of all agreements of water disputes i.e. 1955 and 1976 and also referred to 1981 agreement which did injustice to Punjab. He said water was given illegally to non-riparian states like Rajasthan and Haryana and Punjab has been left with only small share which is insufficient to irrigate the state fields . He said underground water is depleting every year and in the next 17 years all the layers of underground water will become dry.
He said out of 3.5 m.a.f. water illegally given to Haryana by 1976 award, 1.62 m.a.f.water is already going and only 1.88 m.a.f. water is due to Haryana, so there is no need of SYL canal as it can go through Bhakra Main line.
Senior advocate R.S.Bains attacked the central government and courts also for the interference in the water issue. He said water is state subject listed at entry number 17 of the state list. Constitution of Tribunals are also unconstitutional because Punjab rivers do not enter Haryana and Rajasthan.
He said by 1976 and 1981 awards, almost half of the water i.e. 8 m.a.f. was given to Rajasthan which is not a riparian state. All the water disputes in our country and abroad have been settled on the basis of riparian principle. Successor states have also no right because rivers do not flow on their lands.
Giani Kewal Singh Ex. Jathedar of Takhat Dam Dama Sahib strongly supported the initiative taken by five Kisan Organisations for saving water and environment. He said since the governments are not sincere on the issue, so the people are compelled to resort to agitations. Water is our life line which is not only needed for agriculture but also for drinking.
Dr. Navreet Kaur from Department of Public Administration, Panjab University raised the issue of federalism strongly because central government by enacting the Dam Safety Act has taken the total control of BBMB and also trying to centralise the Panjab University. She said people of Punjab should unitedly fight these designs of central government.
Prof. Manjit Singh praised the farmers for compelling the Modi government to repeal three anti farmers laws. He exhorted them to launch the struggle on waters that too would be successful and will give justice to Punjab.
Others who were present include Satbir Singh Walia, advocate, Paramjit Singh Baidwan, Kirpal Singh Siao, Iqbal Singh Mandouli, Gurdev Singh, Sukhdev Singh Kila Raipur, Ugarit Singh, Gulzar Singh Salempur, Pawan Kumar Sogalpur, Dr. Arshdeep Singh, Hakam Singh Manana, Dr, Amandeep Kaur and Malkiat Singh along with large number of workers of Kisan organisations.
Seminar proceedings were conducted by Prem Singh Bhangu, President, AIKF.