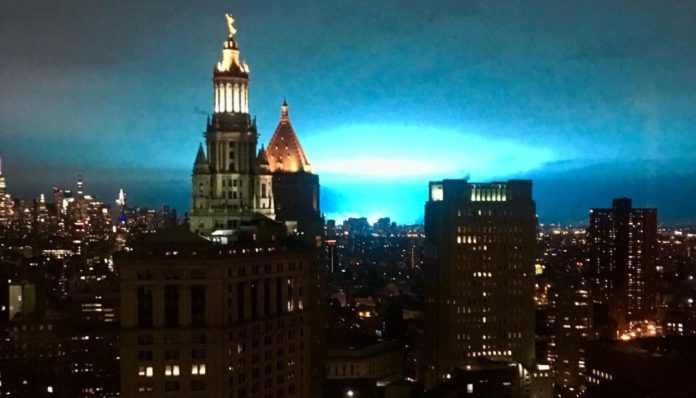 NEW YORK: The New York's skyline was lit up in a brilliant blue shade just like a sci-fi movie after an incident took place at a power facility in Queens on Thursday night.
The incident alarmed the residents, leading to sparking reactions on social media.
It seemed that a transformer had exploded at a campus operated by Consolidated Edison, a major energy company in the United States, the New York Police Department said.
ADVISORY: The lights you have seen throughout the city appear to have been from a transformer explosion at a Con Ed facility in Queens. The fire is under control, will update as more info becomes available. Follow @fdny, @NYPD114pct and @conedison. pic.twitter.com/fdzQKs1wVV

— NYPD NEWS (@NYPDnews) December 28, 2018
The department further added that the fire had been brought under control.
Also, Con Edison confirmed that a fire had broken out at their facility.
We're working with the @FDNY to respond a substation fire in Astoria and will provide updates as soon as we have more information. AQ

— Con Edison (@ConEdison) December 28, 2018
Pictures and videos of the incident were flooded on Twitter and Facebook by social media users.
#astoria @FireWireNYC pic.twitter.com/k0MGgqcpay

— Cindi Kinsily (@cindiKINSily) December 28, 2018
Explosion at the ConEd plant in Astoria. TL-117 confirming a fire at the facility pic.twitter.com/7g3vCmCQJx

— NYCFireWire (@NYCFireWire) December 28, 2018
Appears to be an explosion at the con Ed plant in Astoria @ConEdison … Bright as day. Sounded like a transformer. #breakingnews #astoria #nyc @channel pic.twitter.com/4jZ54iMExU

— ManYourStyle (@ManYourStyleNY) December 28, 2018
As per local media reports, it was still not immediately clear if anyone was injured in the explosion or how many people were without power.
-Harleen Sandhu