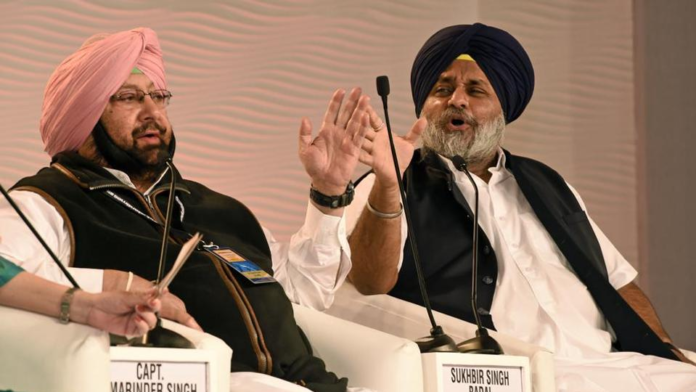 SAD President Sukhbir Singh Badal, who once talked of teaching SIT officials at Mukatsar, who is now investigating the shooting incidents, and has been talking about teaching the government on the arrival of the government, has now again played a new game which has made a blazing statement against the Punjab Police officers. Sukhbir has said that the Punjab Police officers who are registering false papers on the Akali Dal on the order of the present government, will be made after the formation of the government of Shiromani Akali Dal. They will be removed from the job and the Akalis who have more false papers will be given the chairmanship when they come to the Akali government. Sukhbir Badal was here to address election rallies in Sri Hargobindpur.
Speaking from the stage, the President of Shiromani Akali Dal said that Captain Amarinder Singh's government is registering a false case against Akalis, but those who are doing this should ask their conscience whether it is correct. Because they have their own children too, there are small children, and what happens to their family if they file a false report on them? Sukhbir said that Akali workers are brave and everything has passed, but the Congressmen will not find the route running and they will cross the border while roaming. Sukhbir had announced on the occasion that the Akali people who had more false papers, would be admitted to the Akali Dal government when they came in contact with the chairmen.
Sukhbir's new scheme, File FIR, get chairmanship
Let me tell you that Sukhbir Badal had earlier also threatened Justice Ranjit Singh Commission that when his government came, he would file a complaint against Justice Ranjit Singh. The Senior Badal too was not left out of the specimen politics and he also announced on the stage yesterday that the Akali workers do not panic with the charts as they have made the LLB (Parkash Singh Badal) He has become Chief Minister and Sukhbir has become the Deputy Minister by reporting FIR .
Let me also tell you that even before the present Congress party came to power, the Shiromani Akali Dal had accused the Congress workers of lodging false papers. After that, when the Congress party came to power, Justice Mehtab Singh Gill Commission was constituted, which has been repeatedly rejected false papers by its report, and on this commission's report, to register false papers against many police officers, Has also been recommended to take action.
All these cases show that how political people harass lower level workers. But this is for the first time that a leader has announced that file a false FIR and get the chairmanship. After Sukhbir's statement, the people are chit chatting about all this FIR new scheme and people are shocked by the fact that those who fear the job will run away to register the FIR and those who have greed of getting chairmanship will do friendship with SHO with their conserved police station and you may have hear that," yaar ik Jutha parcha he darajh karwa dy , chairmanii lanii hai" ( please file a False FIR on me because I want to get the chairmanship )
(Shikha Sandhir)