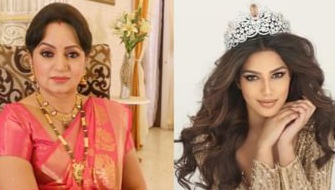 Chandigarh – Upasana Singh, well known face of hindi and punjabi films has filed a petition against Miss Universe 2021 Harnaz Kaur Sandhu for allegedly ditching from the conditions mentioned in the signed contract of film ' Bhai ji Kuttannge'.
It is pertinent to mention here, Harnaz Sandhu is lead actress in the film. The counsels of Upasana Singh Irvineet Kaur and Karan Sachdeva filed the petition in the local court of Chandigarh. The counsels said in the court that Harnaz Sandhu is the heroine of the film 'Bhai ji Kuttannge' which is scheduled to be released on August 19.
The counsels said before the court that Harnaz is not coming for the promotion of the film as it is already mentioned in the written contract that she will come to support publicity and promotion of the film. The petition said Harnaz Kaur Sandhu has signed a written contract before the shooting of this film with the company 'Santosh Entertainment Studio' which has produced the film.
Upsana Singh while talking to the media told she has spent her hard earned money on the film and now the main heroine is not present for the publicity of the film. She said Harnaz Sandhu was living with her in her house at bombay when she was preparing for Miss Universe pageant. Her son used to drop her a number of times to the place where she was doing all those preparations. Upasana said it had never happened before that Harnaz would not pick her phone but after becoming Miss Universe, her conduct has changed and she is not answering to her repeated phone calls.
Upasana told the film 'Bayi ji Kuttannge' was Harnaz's project before she became Miss Universe. But as per legal contract with the production house, she should be present with the team for the promotion of the film. Upasana said it is for the first time she is seeing that the heroine of the film is not showing interest and supporting promotion of her own film.
It is mentioned in the petition submitted before the court that earlier, the date of release of the film 'Bayi ji Kuttannge' was scheduled on May 27 this year but as Harnaz did not reply to the calls , the date of release was changed to 19 August. But , now as Harnaz is not responding to the calls, production company has taken  this step to file the petition in the court.