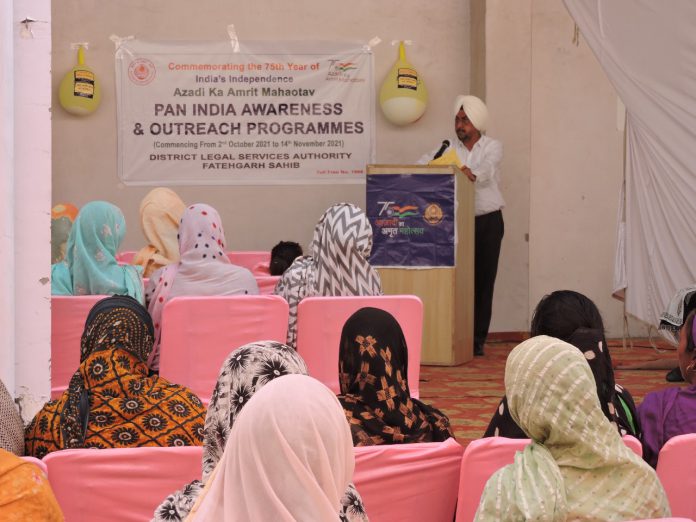 Legal Services Week being celebrated in the Fatehgarh Sahib District
Fatehgarh sahib, 11 October
District Legal Services Authority, Fatehgarh Sahib observed Legal Services Day in the ongoing Legal Awareness Weel by organizing a Blood Donation Camp, a Workshop for the Juveniles and a Tree Plantation Drive at various places in the district.
The Blood Donation Camp was organized at village Chunni Kalan with the assistance of Nehru Yuva Kendra. The Chairman DLSA-cum-District and Sessions Judge, Fatehgarh Sahib Sh. Nirbhow Singh Gill inspired the donors at the camp and informed the residents of the area about various legal aid schemes and how these schemes can be availed. Member Secretary, Punjab Legal Services Authority, Sh Arun Gupta also graced the occasion.
The Juvenile Justice Board of the District in the workshop conducted at Fatehgarh Sahib inspired and motivated the juveniles to improve their educational qualifications and join skill development centres and informed about the various trades / apprenticeship programmes they can join. A free medical check-up of the elderly at the 'Varidha Ashram' was also carried out on the occasion. A tree-plantation drive hase also been launched at Khamano and Amloh in the district.
Secretary DLSA-cum-CJM, Fatehgarh Sahib Smt. Manpreet Kaur informed that Legal Awareness Programmes, Legal Aid Camps, Seminars and Workshops are being conducted all over the district as per the directions of National Legal Services Authority and Punjab State Legal Services Authority as a part of the Pan India Awareness Campaign to commemorate 'Azadi Ka Amrit Mahautsav.'
She further informed that various such programmes all over the district have been scheduled in the ongoing week and this week is being observed as 'Legal Awareness Week' in the district.