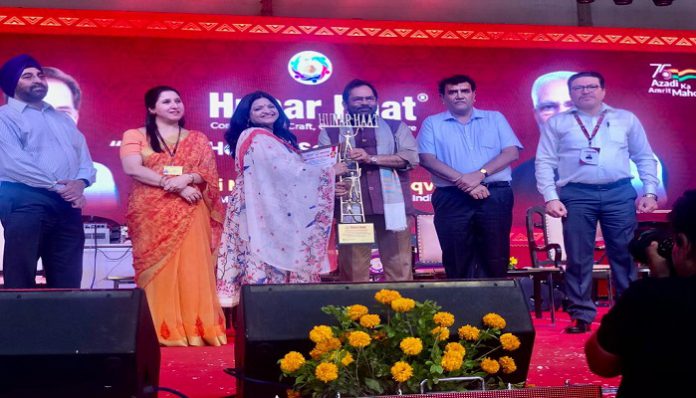 New Delhi: Principal Resident Commissioner, Punjab Bhawan, New Delhi, Rakhee Gupta Bhandari was awarded the plaque of appreciation for her stupendous contribution in organising mega events of Hunar Haat when she was posted as Joint Secretary in the Ministry of Minority Affairs, during a felicitation programme organized in Mumbai by the Ministry of Minority Affairs Government of India.
ਹਾਈਕਮਾਨ ਦਾ ਵੱਡਾ ਫੈਸਲਾ, ਬਦਲਿਆ ਕਾਂਗਰਸ ਦਾ ਪ੍ਰਧਾਨ, ਹੁਣੇ ਕੀਤਾ ਐਲਾਨ
The felicitation programme was to celebrate the 40th edition of Hunar Haat. Union Minister Mukhtar Abbaas Naqvi felicitated the team who have been instrumental in organizing the same under 75th Azadi ka Amrit Mahotsav. Bhandari had made sturdy contribution in organizing events when she was posted as Joint Secretary.
Political Battle : PM Modi ਦੀ ਕਿਸਾਨਾਂ ਨੂੰ ਖੁਸ਼ਖਬਰੀ, ਦਿੱਤਾ ਤੋਹਫਾ! Navjot Sidhu ਤੇ Alka Lamba ਦਾ ਧਮਾਕਾ
On the occasion, Organisers requested her to hum a few lines in front of famous Bollywood personalities and the audience to which she humbly obliged and ended up regaling the audience.
BIG News : Jakhar ਤੋਂ ਬਾਅਦ Sukhjinder Randhawa 'ਤੇ ਵੱਡਾ ਐਕਸ਼ਨ! ਜਾਰੀ ਹੋਇਆ ਨੋਟਿਸ | D5 Channel Punjabi
The 40th edition of "Hunar Haat", a platform to preserve, protect and promote local artisans and craftsmen, was organised in Mumbai in which at least 1,000 artisans and craftsmenare being participated from all over the country.On the occasion famous bollywood personalities like Annu Kapoor, Daler Mehndi , Bhupinder Bhupi, Pankaj Udhas ,Suresh Wadkar,Raju Shrivastava were too present among others.