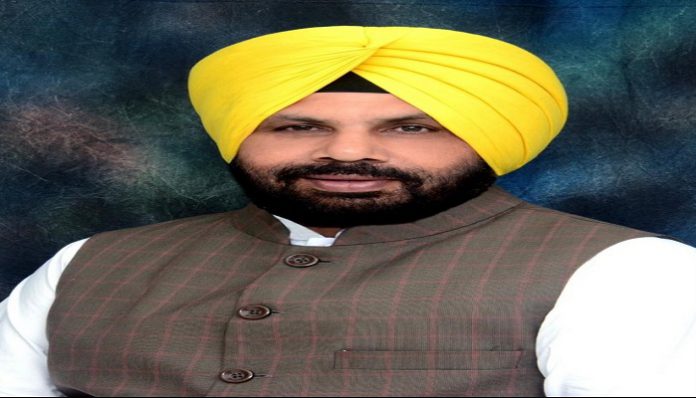 Chandigarh: Punjab Power Minister Harbhajan Singh ETO today stated that notwithstanding the unprecedented power demand, PSPCL has been supplying uninterrupted power to all sections of consumers in the State.
'ਆਪ' 'ਚ ਸ਼ਾਮਿਲ ਹੋਵੇਗਾ ਜਾਖੜ? ਮਿਲੀ ਵੱਡੀ ਆਫ਼ਰ! ਭਗਵੰਤ ਮਾਨ ਨੇ ਦਿੱਤਾ ਵੱਡਾ ਬਿਆਨ! D5 Channel Punjabi
Divulging details, the Cabinet Minister said that the State had witnessed unprecedented demand of power due to sharp rise in temperature since March this year in comparison to last year.
ਜਾਖੜ ਨੂੰ ਆਈ ਵੱਡੀ ਆਫ਼ਰ! ਪੁਰਾਣੇ ਸਾਥੇ ਨੇ ਖੋਲ੍ਹੇ ਸਾਰੇ ਦਰਵਾਜ਼ੇ! ਕਾਂਗਰਸ ਖ਼ਿਲਾਫ਼ ਖੋਲ੍ਹਣਗੇ ਵੱਡਾ ਮੋਰਚਾ!
"During April 2022, PSPCL has met upto 10000 MW peak power demand, which was 46 % higher than April 2021. This extraordinary power demand has continued unabated in May 2022, and 10900 MW peak demand has been met by the PSPCL which was over 60% higher than May 2021", he added. Despite this no power cut is being imposed on any category of consumers and supply to agriculture pumpsets is also being given as per schedule, said the Minister.
Baldev Sirsa Live : ਸਿੱਖਾਂ ਨੇ ਕੀਤਾ ਮੋਰਚਾ ਫ਼ਤਹਿ! ਸਿੱਖ ਇਤਿਹਾਸ ਨਾਲ ਛੇੜਛਾੜ ਕਰਨ ਵਾਲਿਆਂ 'ਤੇ ਪਰਚੇ ਦਰਜ!
In a press release issued here on Saturday, the Power Minister further stated that all the thermal units in the state are in running condition or available except one unit of GHTP Lehra Mohabbat, which has been shut down last night due to technical snag.
BPL Card Punjab : 60 ਪ੍ਰਤੀਸ਼ਤ ਨੀਲੇ ਕਾਰਡ ਹੋਣਗੇ ਰੱਦ! ਸਰਕਾਰ ਕੋਲ ਪਹੁੰਚੀ ਪੂਰੀ ਰਿਪੋਰਟ । D5 Channel Punjabi
Both the units of NPL Rajpura are operational and 3rd TSPL unit of 660 MW closed for annual overhauling is scheduled to start generation this evening. All the four units of GGSSTP Ropar are available and one unit is remain on standby to conserve coal for forthcoming paddy season as relatively cheaper power is available in the exchange.
ਆਹ ਸਿੰਘ ਦੇ ਵਿਦੇਸ਼ਾ ਤੱਕ ਪੂਰੇ ਚਰਚੇ! 19 ਸਾਲਾਂ 'ਚ ਪਾਲੀ ਮੁੱਛ, ਮੁੱਛ ਦੇਖਕੇ ਤੁਸੀ ਹੋ ਜਾਓਗੇ ਹੈਰਾਨ
Further, two units of GHTP Lehra Mohabbat are currently running and one unit is on standby.