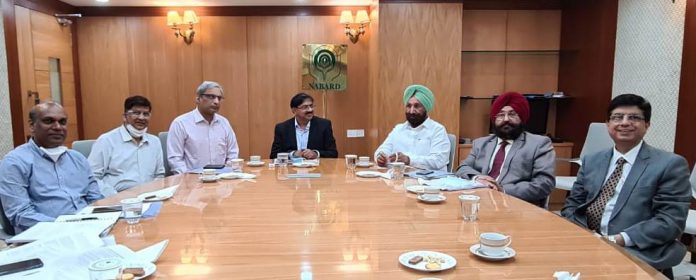 Mumbai/Chandigarh, November 11
The Punjab Government today sought  Rs. 1000 crore from NABARD for giving fillip to the Cooperative institutions in the State with a view to mitigate the lot of Punjab farmers and the cooperative institutions which are facing financial crunch due to Covid.
Disclosing this, the Punjab Cooperation Minister Sukhjinder Singh Randhawa said that during his meeting with NABARD Chairman Govinda Rajulu Chintala in Mumbai, the assistance was sought under under Speicial Liquidity Facility (SLF) and Long Term Rural Credit Fund (LTRCF) to Punjab Agricultural Development Bank.
The Minister further divulged that he apprised NABARD Chairman about the financial constraints faced by the Primary Agricultural Development Banks (PADBs). He also said that a strong case made out in favour of giving SLF and to provide 100 percent refinance under LTRCF to Punjab SADB through a presentation.
The Chairman NABARD after detailed discussions assured to provide maximum help under SLF and 100% refinance under LTRCF to the Punjab SADB. He also agreed that other proposals of the Bank relating to revival of financially stressed PADBs will also be considered with the positive bent of mind.
The Cooperation Minister also took up the matter requesting loans for setting up of Cooperative Sugar Mills in Batala and Gurdaspur, on which Mr. Chintala asked the Cooperation Minister to send detailed proposal for the same.
The minister was accompanied by Registrar Cooperative Societies Vikas Garg and MD, PADB Charandev Singh Maan.
-Nav Gill