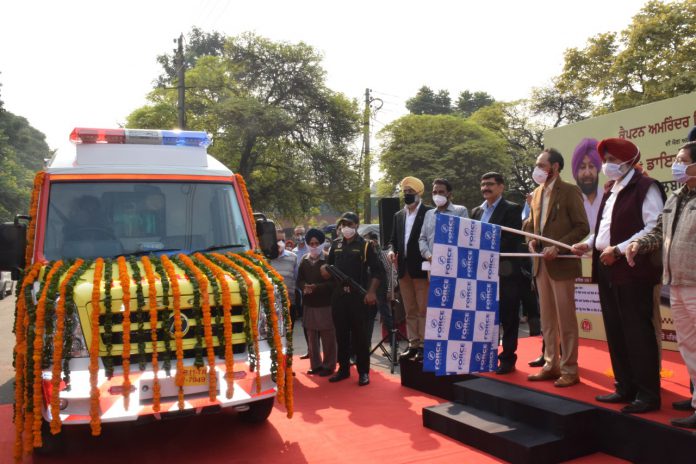 Chandigarh, November 11:
To ensure quick emergency services to the patients during the tough time of the pandemic, Health Minister Mr. Balbir Singh Sidhu today flagged off 24 BLS Force Ambulances.
ये है दुनिया की सबसे कीमती चीज़, हीरे-जवाहरात भी पड़े फीके || P.K Khurana ||
The Health Minister said that to fulfil the shortage of ambulances in the government hospitals, Captain Amarinder Singh led Punjab Government has given nod to procure 100 more Ambulances. 61 from Force Motors & 20 from Tata Motors have been procured.
शरारती तत्वों की नहीं अब खैर, ऐसे रहेगी हर जगह पर नज़र
He informed that in the first phase, 77 Ambulances were procured from  M/s SML ISUZU Ltd. keeping in mind the 'Make in Punjab' Policy. It is pertinent to mention that now all 22 Districts have ALS Ambulances which are fully equipped with life saving equipments such as Ventilators, Defibrillators, Multi-Para Patient Monitor, Suction Machine, Nebulizers etc. These  ambulances are proving to be one of the main pillars of fighting the pandemic reducing the time required for transit of critical patients to required health facilities. At a time when in numbers of positive patients are expected to increas the addition of these new ambulances will further give boost to the efforts of fighting the pandemic.
He divulged that these ambulances in the State have  been deputed at Strategic places and are connected with '108' ERS adding that the new ALS & BLS ambulances would prove life saving for the patients developing respiratory and other critical issues.
We are ensuring that in case of  Emergency Ambulances will reach the place within 20 minutes in Urban areas and within 30 minutes in Rural areas, he said.
-Nav Gill