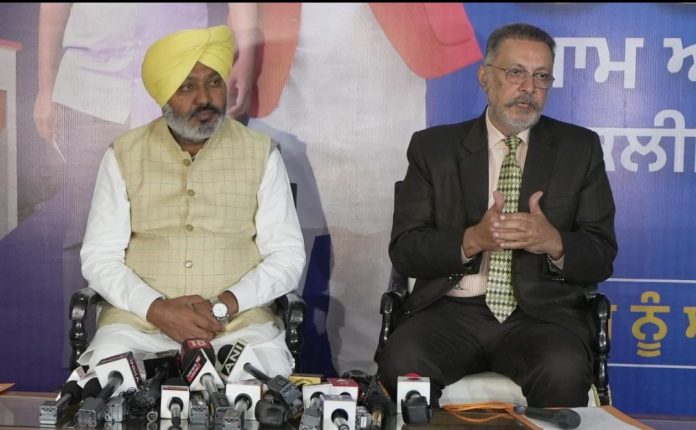 Chief Minister Bhagwant Mann will inaugurate clinics in Amritsar, AAP convenor Arvind Kejriwal will be present as the Chief Guest
Over one million people have availed the benefits from Aam Aadmi Clinic so far and free check-up of more than three lakh people done: Health Minister Dr. Balbir Singh
Mann government working dedicatedly to fulfill CM's dream to make state again as Rangla Punjab: Harpal Singh Cheema
Chandigarh – With an aim to provide free and top-class treatment to people of Punjab, Chief Minister Bhagwant Mann will dedicate 500 Aam Aadmi Clinics (Mohalla Clinics) to the people of Punjab.
Earlier, he had inaugurated 100 Aam Aadmi clinics built in the first phase on August 15 on the occasion of Independence Day. Now after the completion of 400 new clinics, the total number of Aam Aadmi clinics in Punjab will be 500.
Addressing a press conference in Mohali, Finance Minister Harpal Singh Cheema and Health Minister Dr. Balbir Singh said that the inauguration program would be held in Amritsar on January 27. Chief Minister Bhagwant Mann will inaugurate the clinics while AAP convenor and Delhi Chief Minister Arvind Kejriwal will attend the program as the chief guest.
Harpal Singh Cheema said that it is a matter of great pride that the health revolution has started in Punjab within just a year of formation of the Aam Aadmi Party government. Before the elections, party chief Arvind Kejriwal had given a guarantee to the people of Punjab that to provide free treatment, Mohalla Clinics would be set up in Punjab if the government was formed. Now our Chief Minister Bhagwant Mann is fulfilling all his promises and working assiduously to fulfill his dream of making the state again as Rangla Punjab.
Health Minister Dr. Balbir mentioned the successes of Aam Aadmi Clinic and said that till now more than one million people have taken advantage of Aam Aadmi Clinic and over three lakh people were examined at free of cost. Also, medicines were also given free of cost to the people.
Dr. Balbir said that the first priority of the AAP government is to ensure that people of Punjab gets free education and best quality treatment in the state. When the children of common people will get free education, free treatment, free medicines and free health check-up, they will save a lot of money. They will use this money for their daily needs. This will raise the standard of living of the common people and the society will progress in true sense, he added.