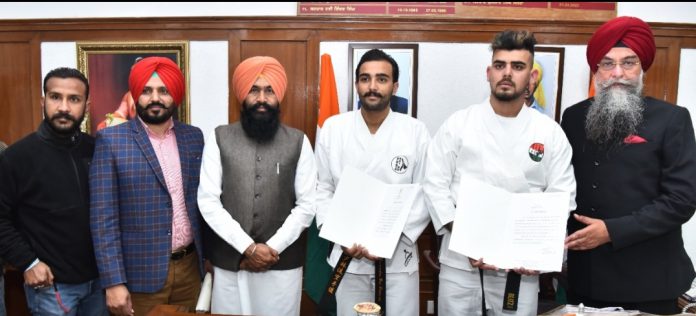 Kultar Singh Sandhwan appeals the sportsmen to work with determination
Chandigarh – Punjab Vidhan Sabha Speaker Kultar Singh Sandhwan has urged the sportsmen to work hard with determination to brighten the future of the country in the field of sports.
On the occasion of honoring to Ekamveer Singh and Karanveer Singh, who won medals in martial arts in the National Sikh Games-2022, Sandhwan said that the Punjab government has started activities to create a sports culture in the state and to make Punjab a leading state in the field of sports.
He said that Punjab Government has provided a suitable platform for sportsmen to articulate their hidden talent. He said that it is the need of the hour to encourage budding players and the Punjab government is making all efforts in this direction.
Sandhwan said that there is no dearth of sports talent in Punjab and the Punjab government is making efforts to harness their potential. He also said that now the players in Punjab are being provided modern basic facilities so that they can show their best performance and raise the name of the country.
It is to be noted that in the National Sikh Games-2022, Patiala's Ekamveer Singh and Mohali's Karanveer Singh have won gold medals in the field of Martial Arts.  Sandhwan said that it is a matter of pride for the state to win gold medals by these players. He congratulated both the players and wished them good health and good future.
On this occasion Kulwant Singh Pandori, MLA was also present.