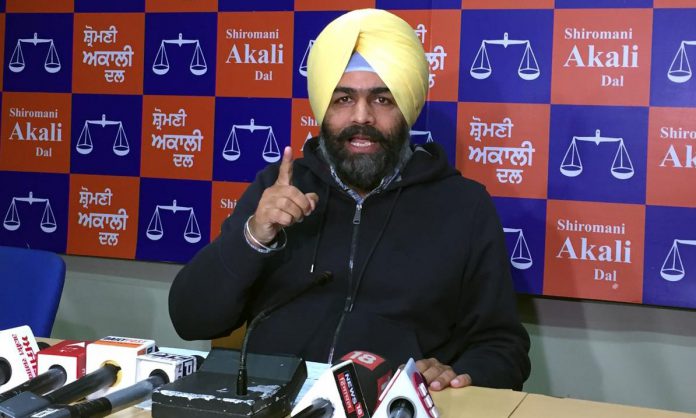 SAD asks Khattar to tell whether only those who toed the BJP line would be given their "rights
Chandigarh – Shiromani Akali Dal (SAD) General Secretary Parambans Singh Romana asked Haryana chief Minister Manohar Lal Khattar to tell whether only those who toed the BJP line were given their "rights" or they were universal and should be applied to the Bandi Singhs also.
Addressing a press conference here, Parambans Romana said " Manohar Lal Khattar has claimed that seeking parole is the right of Gurmeet Ram Rahim. I want to ask whether this right should also be given to Bandhi Singhs who have been incarcerated for stretches as long as 28 years without parole". He also gave the example of Sikh detainee Bhai Balwant Singh Rajoana who he asserted had got parole for a few hours to participate in the last rites of his father during his ongoing 28 year incarceration.
Asserting that it seemed that special privileges had been reserved for Ram Rahim, Romana exposed the political necessity of giving parole to the convicted rapist by the Haryana BJP government. He said in 2019, Ram Rahim's application for parole was rejected and in 2020 and 2021 the convict got parole for one day each. The SAD leader said all this changed near the 2022 Punjab elections following which Ram Rahim were spending more time on parole than in jail. Romana said in February 2022, Ram Raheem got parole for 21 days prior to the Punjab assembly elections. He said when the Sangrur bypoll was due in June 2022, Ram Rahim secured a 30 day parole. "Similarly prior to Adampur bypoll and Himachal assembly election the convicted rapist again secured a 40 day parole. Now when the Jalandhar bypoll is due Ram Rahim has again been given a 40 day parole".
Asserting that this was a pattern which even the blind could see, Romana asked the BJP why it was quiet on this issue. "The BJP claims to be Sikh Hiteshi but no senior BJP leader, including its state president Ashwani Sharma or BJP Sikh faces like Iqbal Singh Lalpura, Manjinder Singh Sirsa and Harmeet Singh Kalka have reacted to this judgement. Even BJP sympathisers like Sukhdev Singh Dhindsa and Baljit Singh Daduwal are mum on this issue ". Asserting their silence was either because all these leaders were afraid or had been purchased, Mr Romana said all of them had been thoroughly exposed in front of the Sikh community.
Romana also took on former Congressman turned BJP leader Sunil Jakhar for shedding crocodile tears on this issue. He said Jakhar should disclose if he had registered his protest against the repeated paroles given to Ram Rahim with the Haryana chief minister, or conveyed the sentiments of the Sikh community on this issue to the Prime Minister.