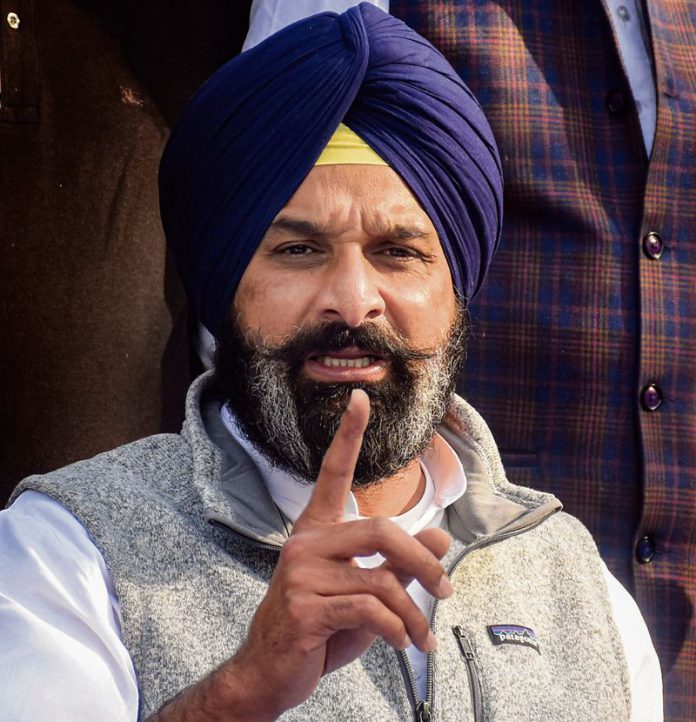 Old Building declared unsafe are being use to promote political agenda of Arvind Kejriwal: Majithia
Amritsar – Shiromani Akali Dal (SAD) Senior leader and former minister Bikram Singh Majithia today exposed the hollow claims of Bhagwant Mann Government on Aam admi clinics by showcasing how old and unsafe building were being converted into an AAP clinics to befool Punjabis.
Interacting with media at village Thariewala, Bikram Singh Majithia exposed how the old Primary Health Centre in the village which was established in 1966 has been converted into an AAP clinic. He said an amount of Rs. 25 lakh was being spent on renovation work which mostly included installation of false ceiling and re-painting old buildings. He said that civil work which were being done at a market rate of Rs. 4 to 5 lakhs per centre were being done at Rs. 20 to 25 lakhs per centre.
Majithia further asserted that people of the state were watching how an IAS officer has refused to sign orders for promotion of such AAP clinics in Southern states at a cost of Rs. 30 crore whereas establishment of such clinics has cost the state Rs. 10 crore. He said that people of the state were watching what IAS officer Ajoy Sharma did and what VK Meena was likely to do in the matter.
Asserting that this was a scam in the making, Majithia said people's lives were also being put to risk by converting unsafe buildings into AAP clinics without understanding structural repairs.
The SAD leader also cautioned officers to avoid doing any wrong thing adding that an SAD delegation would meet Punjab Governor on the issue and will file a complaint on the issue of loot of government exchequer by the AAP government. He also said that the SAD would demand inquiry into this entire issue in order to fix responsibility for the plunder of tax payer's money.