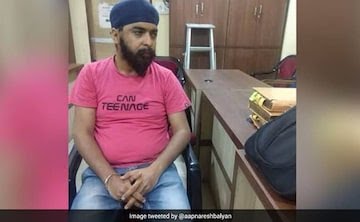 Delhi – Taking to Twitter , BJP leader Tajinder Bagga has questioned Delhi CM Arvind Kejriwal that when will action be taken against the culprits in Bargari sacrilege case.
'Will not stop questioning you…': Tajinder Bagga's fresh attack on Kejriwal https://t.co/esuQeBgzUb

— Tajinder Bagga Office (@OfficeOfBagga) May 15, 2022
The critic of Convenor of Aam Aadmi Party in a post said he will not stop asking questions till the action is taken against the accused involved in Bargari case. He asked Kejri in message that how much time is needed to taken action in this matter. They had claimed to take action in 24 hours but now its been around 60 days. How much did you sell your soul for?, Bagga has posted message after message on his twitter account on Sunday.
गुरु ग्रन्थ साहिब की बेदबी करने वालों पर कार्यवाई कब करोगे @ArvindKejriwal ? आपने 24 घण्टे का समय मांगा था,60 दिन हो गए? कितने में जमीर बेचा ? तब तक पीछा नही छोडूंगा केजरीवाल जी जब तक गुरु ग्रन्थ साहिब का अपमान करने वालो को सलाखों के पीछे नही डालोगे

— Tajinder Pal Singh Bagga (@TajinderBagga) May 15, 2022
"Good luck and Goodbye Congress", said former PPCC president Jakhar in a FB video